Good Evening all...Its Beginning to look a lot like Christmas every where I go... I took a Road trip North tonight and every where was lit up with Christmas Lights... sure made the two hour drive exciting.. Twinkling here and Nativity Scenes there, Snowmen and Santa's every where.. I was lovin it..especially love those new Blue colored lights Ohhhhh how pretty they are...its hard to believe that its only a couple weeks till Christmas...I'm not ready that's for sure...
Tomorrow is my Doctor's appointment with my family Dr. Since he's up North and I've been down south He hasn't seen me since I got really sick, swelled up like a balloon, went numb, got the jerks and muscle spasms and landed up in the hospital so I think he is going to be really shocked when he See's me and See's the hospital reports.
Hopefully he will get me started on new meds that will hopefully help me get back on the road to recovery. I am still shocked that the hospital didn't start me on new meds before they released me..especially since the hospital report expresses how urgent it is that I get on Hypothyroid meds ASAP...weird really weird..
I have only gotten worse since my hospital stay..now the left side of my face is numb along with my hands & arms. The swelling in my hands, arms, legs and feet has stayed about the same but now my face is extremely swollen which I'm sure is what is causing my face to go numb. Thank goodness the jerks have calmed down thanks to the meds the hospital put me on but still having the muscle spasms.
I guess we shall see what tomorrows Dr. visit brings..
Now for the good news... I got the call from Ohio State Hospital today and I was approved for help with any doctors I need to see there starting with the Endocrinologist. I was only approved for 50% discount because I own a house but 50% is better then nothing..I'm more then grateful for all the help I can get...especially since my condition at this point has pretty much put a halt to me even creating much.
Which of course means little to no income right now...
My body sure picked a crummy time to decide to break down on me...
At least when the Van Breaks down on me I can take it to the shop & get it fixed and it only hurts my wallet...LOL....
As I was driving north I caught myself singing 'All I want for Christmas is to feel my hands, fingers and arms again without any pain.. ya think Santa can put that in a package under my tree...??? probably not but I ask anyway..LOL..
Like I mentioned my ability to create has been really limited but you know me I'm not a quiter so I have been giving it my best effort to keep creating even if it takes me 100 times longer to create a gathering...Just being in the shop and giving it my best effort has some calming affects and helps me get threw this mess even if it hurts..I refuse to let this take away my passion for creating...
So even tho I haven't created much the past two weeks I did finish a few things.
~Primitive Necessary Room Tray Gathering~
~Primitive Necessary Room Tray Gathering~
~Primitive Necessary Room Tray Gathering~
~A Mini Primitive Stool Gathering~
~A Mini Primitive Stool Gathering~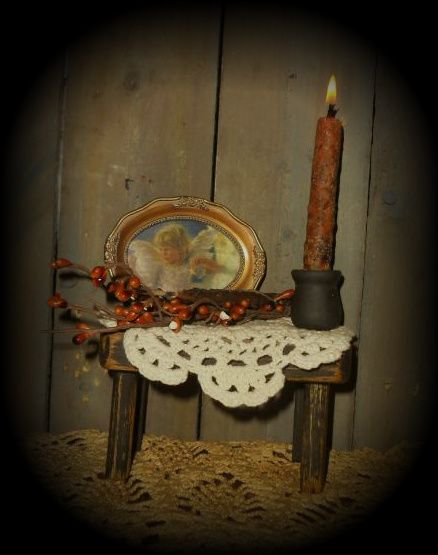 ~A Mini Primitive Stool Gathering~
~Primitive Bench Necessary Room Gathering~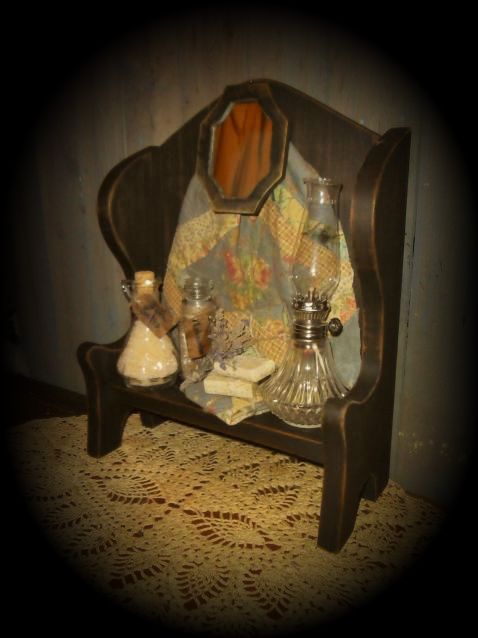 ~Primitive Bench Gathering~
Take a minute and stop by My Ebay Store and check out all of my other offerings!!
Don't forget if you want to order any Rag Garland, or Rag Ball Tree ornaments email me at my Order Email address listed on the top of my blog.
Wishing you all a wonderful Day filled with happy moments!!
Blessings
Tonya